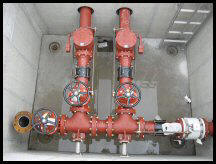 Pumping systems are typically such a small portion of a project that their value and function are typically over looked. Infra Tech manufactures more stations in a year than most contractors install in a lifetime. With approximately 80 stations delivered, Infra tech is the unchallenged leader in the Mid-Atlantic region for prefabricated pumping systems.


Infra Tech fully assembles pump stations at our factory before delivery to the customer. Manufacturing the stations above ground provides a cleaner and controlled environment, which translates to quality of design and performance. Stations ship complete with base infills, mounted pump QDC's, mounted interior pipe brackets, and all pipe penetrations.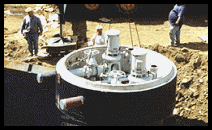 If your project requires a control building or an above ground pump station we can accommodate your needs. Working in conjunction with Porta Con Structures, our units are concrete, with split face block (your choice of color) and completely pre-wired for VFD's, ventilation, chart recorder, lighting, etc. Control buildings can be purchased as separate units or integrated to house the valve assembles of your pump station; saving valuable on-site real estate and providing a safe environment for weekly inspections or maintenance.

Our company is recognized for its expertise in the field of wastewater management and our engineering and design team have over 50 years of experience in this industry. Working with all major pump, flowmeter, generator, odor control and prefabricated building suppliers in the region, Infra Tech can design and manufacture a pumping system to fit your requirements.

Known for quality products and manufacturing, Infra Tech prides itself on workmanship. Every pump station is different with respect to size, volume, and orientation but every pump station we manufacture has the following features as standards:

Propoxy 2228 and Promastic 900 coatings on concrete structures
Steel alignment plates to ensure proper orientation during on-site construction
Conseal mastic sealant
Stainless steel hardware including bolts, threaded rods, pipe restraint plates, guide rails, pipe stands, float hangers, etc.
Aluminum ladders w/ safety posts
Link-Seal modular pipe seals
EZ Vent, LLC main vents and odor control systems (unless otherwise specified)
Infra Tech, LLC currently has sales representatives in Delaware, District of Columbia, Maryland, Pennsylvania, Virginia and West Virginia. Please call 410-658-8500 for your local representative information.